A recent New York Times poll found that 59% of those aged 45 to 64 plan on voting for Republicans in this coming midterm election.
Republicans also have an advantage among likely voters – they hold a 49%-45% lead in the poll.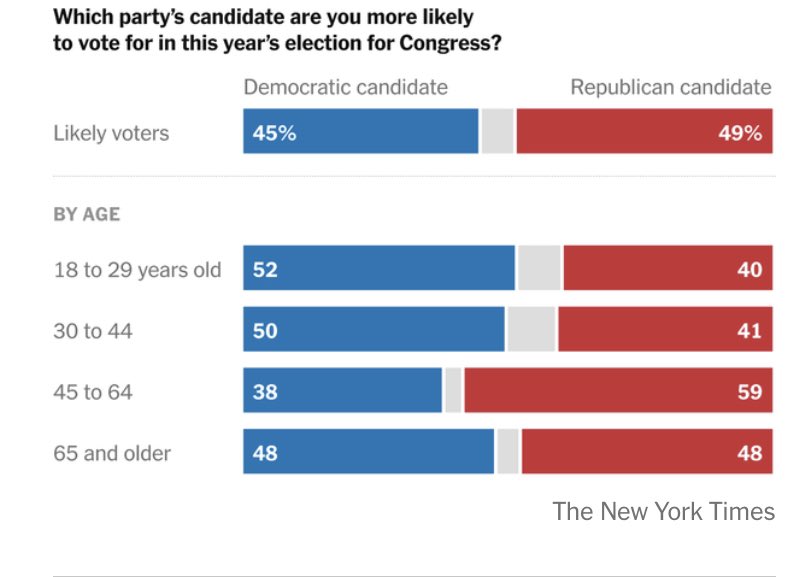 Liberals lashed out at the poll and Gen Xers for showing support for Republicans.
Why are Gen-Xers, uniquely among the age groups, so strongly Republican and weakly Democratic? BTW, this new @nytimes poll is not unique in showing this. pic.twitter.com/7IRN6aidHw

— Kurt Andersen (@KBAndersen) October 18, 2022
1. This isn't quite the right age spread for GenX, so there's that.
2. But seriously does no one else remember preppies and pearls, white supremacist 50s retro BS, "Greed is Good", and cocaine? That there are are Republicans regressives amongst us should not be that surprising. https://t.co/tW6T86elds

— Racheline Maltese (@racheline_m) October 18, 2022
Because only the lame Gen X ppl pick up the phone when a pollster calls. https://t.co/jVu968xxNz

— John Fugelsang (@JohnFugelsang) October 18, 2022
Because they're 45 to 64, old enough that most of the white middle class ones own homes and young enough that few of them are living on fixed incomes.

And for all that Gen Xers like to see themselves as cool slackers, the generation also produced people like Ted Cruz. https://t.co/QFmzglI25O

— Sarah (@sosomanysarahs) October 18, 2022
I'm not sure why this is a surprise anymore. Who was majority at Jan 6 insurrection? Gen-X. Into Qanon? Causing a ruckus at school board meetings? Anti-vax? Alex Jones supporters? All Gen-X heavy. https://t.co/hBlJuM3X8Q

— DEC (@freealonzo) October 18, 2022
The poll also found Donald Trump leading Joe Biden in a hypothetical rematch in 2024.
Former President Trump leads President Biden by 1 point in a hypothetical rematch, according to a New York Times-Siena College poll published Monday.

Trump leads Biden, 45 to 44 percent, when likely voters were asked whom they would support if the 2024 presidential election were held today.

That's roughly in line with previous polling showing Trump leading Biden, Vice President Harris and Sen. Bernie Sanders (I-Vt.) in hypothetical match-ups.
Liberals sense a red wave is coming!
The post Democrat-Socialists Rage At Generation X For Supporting GOP By Huge Margin In New Poll appeared first on The Gateway Pundit.